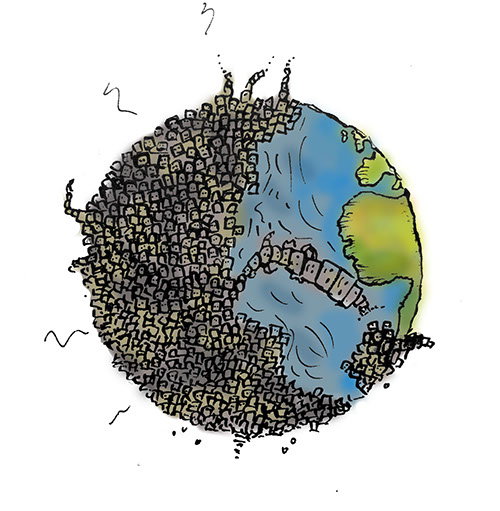 Writing: Science-Fiction Science—Grey Goo
Duration: Approximately 75 minutes
In this unit, robots have provided a model for yeast cells. In the real world, yeast cells provide a model for cancer research. What happens when a cell is damaged, stops following instructions, and consumes all the resources around it? It's not dissimilar to what we imagine would happen if robots stopped following instructions and went rogue. Students are challenged to apply what they've learned in this unit to making a case for why the world isn't covered by the grey goo of self-reproducing organisms (or robots).
LEARNING OBJECTIVE
Students will be able to justify why yeast is used as a model for cancer research.
Students will be able to explain the limitations of yeast as a model.
Students will be able to analyze and interpret a data chart of (or use mathematics and computational thinking to explain) exponential growth.
Students will be able to communicate to others (or create an argument for) why abnormal cell division is linked to cancer.
Teacher Tips
You can add more math practice to this writing exercise by skipping the prepared class introduction on exponential growth in Google slides and sheets, and instead ask your students to create an exponential growth chart by hand in their notebooks. They could do this by doubling the values using either a pencil and paper or a calculator. Some calculators will display an error message if the result is too high.
This activity uses a pre-made Google docs spreadsheet. If you prefer not to use it online, it can be downloaded to use in any spreadsheet program (such as Numbers or Microsoft Word).
Review the focus words of the week. The focus word chart linked on the unit overview page should be used as a resource for students to review definitions and sample sentences.
Materials (one per student or group)
optional: electronic device (such as computer, laptop, tablet) if looking at graphing in Google Sheets individually/in pairs rather than as a class
Teacher Tune-ups