Lab: The Clever Lever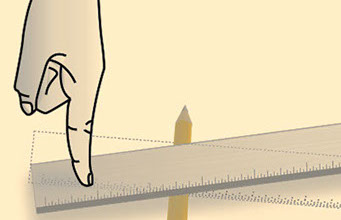 Duration: Approximately 45 minutes
This activity investigates three types of levers. Students will construct levers using a weight, a dowel (or a thick marker or a pencil) and a ruler. This investigation is an opportunity to correctly use the terms force and work and learn the definitions of fulcrum and lever. Students construct three levers, one for each class of lever, and reflect on the amount of force required (input) and work produced (output) by each lever.
LEARNING OBJECTIVE
Students create three levers and reflect on the amount of force required, and work produced, by each lever.
Teacher Tips
For the weight, use an object heavy enough so it can't be easily catapulted across the table! A heavy, flat rock works well. A cell phone is heavy enough but is too valuable to risk having catapulted.
A rigid wooden ruler works well but any stiff, thin, and long object will work.
A thick marker is best for the dowel—about 1/2 inch thick is ideal. A pencil can also work as a fulcrum.
Materials (per group)
a weight (perhaps a rock with a flat side)
a long, flat piece of wood (like a ruler or paint stirring stick)
a dowel (a thick marker, crayon, or pencil)
Safety Checks
Review with your students all your school's safety protocols when doing labs.
Set ground rules about weights being placed on the lever, never flung or launched.
Teacher Tune-ups